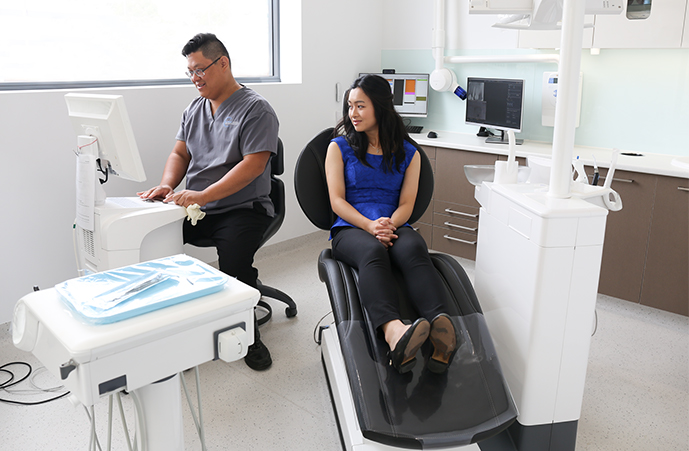 Have you got some white spots on your teeth and wondered what they are – and if you can get rid of them? There are several causes for the white spots, but we at your Epping Dentist can reassure you that they are unlikely to be a serious medical issue!
Two of the causes of white spots are things you can start to deal with immediately – if they apply to you. One of them comes from eating and drinking too much sugary/acidic foods and drink as they damage tooth enamel. White spots can be one of the resultant blemishes.
The culprit foods and drinks include citrus fruit and juices, sugary sweets, soft drinks, and sports drinks. The best thing is to minimise their consumption and then further diminish their effect by drinking water afterwards to wash the sugar and acid off your teeth. Using a straw for drinks may help too.
Although that these foods taste good, they have a dangerous impact on your health in general. They are associated with obesity, diabetes and heart disease – all the things you really want to avoid. Minimising sugary/acidic foods and drink is a good thing for your overall health as well as your oral health.
The second cause of white spots is less than ideal dental hygiene. We are back to the fundamental need to carefully brush our teeth at least twice a day and floss them once a day. If you know in your secret heart that you really haven't been doing this to the best of your ability, hopefully, the presence of the white spots will motivate you to become a tooth brushing and flossing champion. Your Epping Dentist will be delighted if that happens!!
There are another two causes of white spots, and they particularly apply to children.
One, enamel hypoplasia, develops in children; the surface of the tooth enamel is too thin. It seems to be congenital or the result of some early childhood trauma or illnesses.
The other, dental fluorosis develops in children up to the age of 8 who have consumed too much fluoride. It commonly develops before their teeth erupt through their gums. The internal enamel layers of their teeth are hypomineralised (i.e. under mineralised). Dental fluorosis is harmless in its own right, but it does increase the risk of tooth decay.
You can take some steps to minimise the build-up of fluoride in your child's body, so dental fluorosis is less likely.
If your baby drinks baby formula instead of breast milk, use fluoride-free water for the formula.
For your child younger than 3 use only a rice-grain size of toothpaste on their toothbrush, and for one older than 3, use only a pea-size piece of toothpaste.
Encourage your child of any age to spit out the toothpaste after brushing.
As you can see, there are some things you can do about white spots for yourself and your children. Another post will tell you what your Epping Dentist can do to help, too.
Find out more, click the link for a consultation appointment: http://bit.ly/RawsonDental-Epping