Replace your missing or badly damaged tooth or teeth with dental implants.
A dental implant is an artificial tooth root that is inserted into the jawbone and bonds with it. Together with an attached crown it replaces a missing tooth. This combination looks and functions like a natural tooth.
Dental implants can be used to replace one or more missing teeth – even in some cases a set of artificial teeth. Sometimes an implant is fitted with special studs to hold a denture.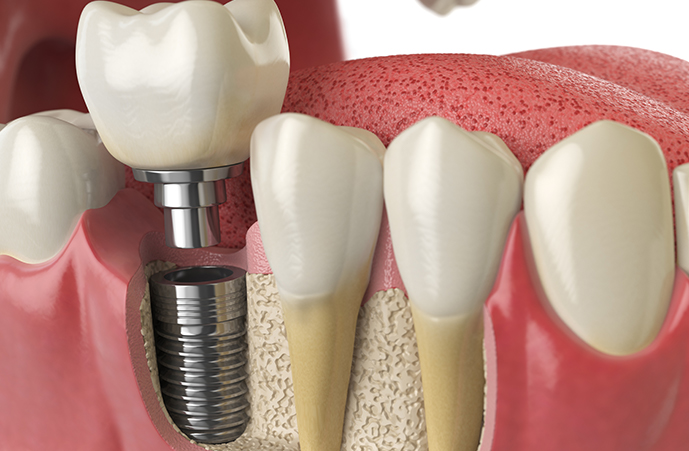 There are quite a few advantages of a dental implant, as it:
Does not require any cutting or reshaping of adjacent healthy teeth – unlike bridges
Is firmly secured into the jaws
Allows dentures to withstand higher bite pressure
Prevents bone loss in the jaw – thus keeping adjacent teeth stable
Prevents the occurrence of sunken or collapsed cheeks following tooth extraction
Is mostly surrounded by gum tissue like natural teeth and might prevent gum shrinkage
Is usually more comfortable than dentures
Is cleaned with a brush and dental floss like natural teeth
does not require special care or cleaning products – unlike bridges or dentures
Dr Le and associates from Rawson Dental design dental implants to last for years, but good oral hygiene is vital too. Artificial teeth, like natural teeth, require daily brushing and flossing to minimise the plaque/calculus deposits which lead to bleeding gums, bone loss, infection and pain. Repairs might also be required – as they are for any dental appliance.
It is possible that your case might require management by more than one dental practitioner. This of course would extend the treatment time and costs, but Dr Le and associates from Rawson Dental would only recommend that to you if it was in the interests of your well-being and oral health.