Bruxism
You might find yourself clenching or grinding your teeth at times during the day when you are not chewing your food. It can also happen at night while you are asleep. The actions of clenching and grinding are accomplished by muscles in your jaws and they can exert a great deal of pressure on your teeth. The muscles involved are the temporalis and masseter for the up/down movement of your jaws and the lateral pterygoid for their left/right movement.
Bruxism is very damaging for your teeth as it can wear down the hard enamel outer layer that protects your teeth and then damage the softer underlying dentine or even the pulp below that. Any of this damage compromises the health of your teeth by breaking them and causing or allowing infection – in the worst case, requiring root canal therapy.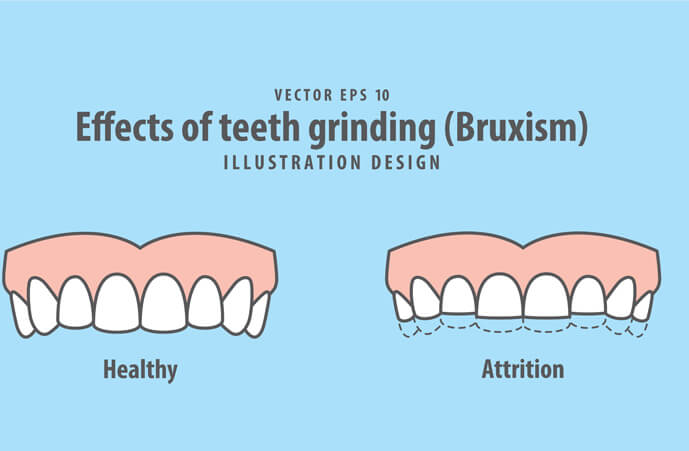 The pressure involved in the bruxism can also make your jaw joints [temporomandibular joint, which is commonly referred to as the TMJ] very painful.
Causes
It is thought that bruxism has both physical and psychological causes. These include:
Poor nutrition or dehydration
Stress or anxiety
Abnormal anatomy of the teeth or jaws
Sleep disorders.
What are the signs that you might have bruxism?
It can sometimes be very difficult to tell if you clench or grind your teeth, and the symptoms vary depending on how tightly they are clenched or ground. However, you might notice:
Teeth that are sore or are sensitive to heat and cold
Facial pain and tension headaches
Noise from the teeth grinding together [particularly by family or friends]
Ear ache or jaw pain
Pain or stiffness in your jaw joint that makes it hard to open your mouth and chew your food.
Dr Le and associates at Rawson Dental might notice:
Tooth surfaces that are worn or flat
Teeth that look yellowish as their dentine is showing through the enamel
Micro-fractured tooth enamel
Broken or chipped teeth
Loose teeth or damaged tooth sockets
Diagnosis of bruxism
If you suspect you might have bruxism, Dr Le and associates are best for making a diagnosis, which will be based on a proper clinical examination plus your medical and dental history.
For this your dentist will consider:
Where you experience pain or stiffness
The extent of your jaw's movement
Your bite, tooth wear and movement of your teeth.
Your dentist might also want a plaster mould of your teeth to ensure your bite is balanced, or some X-rays, or a detailed questionnaire and pain diagram from you to help with the diagnosis.