Invisalign is a system that uses a series of aligners that are made just for your mouth. Comfortable and invisible, over 5 million people have used Invisalign to correct their own teeth, eliminating the need for braces.
Your Invisalign removable aligners are changed every two weeks for the next set of aligners. Invisalign producers use 3D modeling software and cutting-edge manufacturing technology to provide a removable and virtually invisible solution for straightening teeth. Each aligner is made uniquely for your own mouth and teeth.. As each aligner is replaced your teeth straighten a little more each week, until they are at the measurements prescribed by Dr. Le.
You can completely transform your appearance just by smiling, and Invisalign can help you do that! Although there are many choices out there, no other treatment works as quickly and effectively as Invisalign.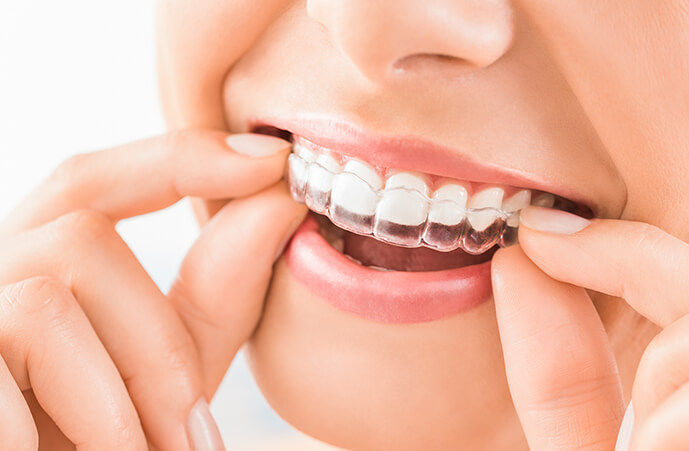 Treatable conditions
By using advanced technology, Invisalign completely replace braces and helps treat a large number of conditions
Overly crowded teeth
Widely spaced teeth
Crossbite
Overbite
Underbite
Benefits of Invisalign Braces
Quick and precise
Invisible – plastic aligners are transparent and nearly invisible
Hygienic and Clean–keeping your teeth clean is much easier with removable Invisalign aligners than braces.
Advanced Technology– custom designed trays are made especially for your own teeth using CAD-CAM technology
Eat what you like – As you remove the trays during meals, you are free to eat the foods you would normally enjoy.
No brackets or wires – Without the brackets and wires associated with traditional orthodontics, your smile is allowed to shine through.
Not bulky – Your speech, although needing a day or so to adjust, will hardly be affected, if at all.
Affordable and effective – The cost of Invisalign® at Rawson Dental is very reasonable relative to that of other available braces.
How it Works
Individually designed for your needs
So you've decided Invisalign is for you, but what happens next? Simply book an appointment for your free Invisalign consultation to discuss your smile.
Once your dental provider determines that Invisalign is right for you, they will develop a professional treatment plan, after which your aligners will all be ordered to be custom-made.
If you're still wondering how the process works a little more, read on below to discover what will happen in the coming weeks.
Initial Consultation
During the initial consultation, Dr. Le will discuss with you about issues you may have with your teeth and explore the kind of results you're hoping to achieve. If you are a candidate for Invisalign, a treatment plan will be planned with your goals in mind. You will have impressions taken of your teeth and these will be sent to the Invisalign laboratories.
Treatment Plan
Your teeth impressions will be digitised in order for Dr. Le to review a computerised 3D image of your teeth. He will then prescribe and review the exact tooth movements for the duration of your personal treatment plan. You'll be able to see a virtual representation of your teeth before, during, and after the Invisalign treatment, so you can see what your smile is expected to look like once you've finished the treatment.
Once you have agreed to your Invisalign plan, the aligners are then specially crafted for your mouth and are worn for approximately two weeks before you begin using the next aligner in the series. While the number of aligners is different for everyone, a full treatment usually includes 18-36 aligners for both the upper and lower teeth, which will take approximately 9-18 months depending on your own treatment plan and prescription.
Treatment Process
The aligners are worn during the day and night, except when you are eating, brushing or flossing your teeth, in order to finish your treatment in the amount of time you and Dr Le agreed upon. Checkups are done every 4-6 weeks to monitor your progress and to get your next series of aligners. During the entire treatment process, you'll feel your teeth moving around, and they will gradually move into an even and healthy smile.
Make an appointment with Dr. Le now, and discover your options…
A visit and dental checkup are the best way to find out whether Invisalign is right for you. Dr. Le will conduct a brief suitability assessment and answer any questions you have about Invisalign.