Root Canal Therapy – Endodontics
Root canal therapy is used to save teeth heavily damaged by decay, disease or injury.
It is often preferred to tooth extraction as your own natural tooth will function better than an artificial tooth. It is more likely to be stronger, bite and chew more effectively and be easier to clean and maintain.
Millions of people choose root canal therapy over tooth extraction every year for those reasons. A root-filled tooth will function better than an artificial tooth!
Losing a tooth is likely to cause problems biting, chewing and for your oral health. Adjacent teeth can move out of position or lean into the empty tooth-space, for instance, which make biting and chewing difficult, and also threaten the moved tooth with decay and gum disease as it might be harder to clean.
Dr Le and associates at Rawson Dental will not opt for root canal therapy for your damaged tooth unless the therapy is likely to be successful. In some cases, though, root canal therapy might not be appropriate, and extraction might be the best, or only, choice available.
Dr Le and associates have been trained to carry out root canal therapy, though in some cases you might be referred to a specialist root canal therapist [endodontist].
Be assured though: root canal therapy is successful in the vast majority of cases! With care, your treated tooth can last for many years – perhaps even, for the remainder of your life.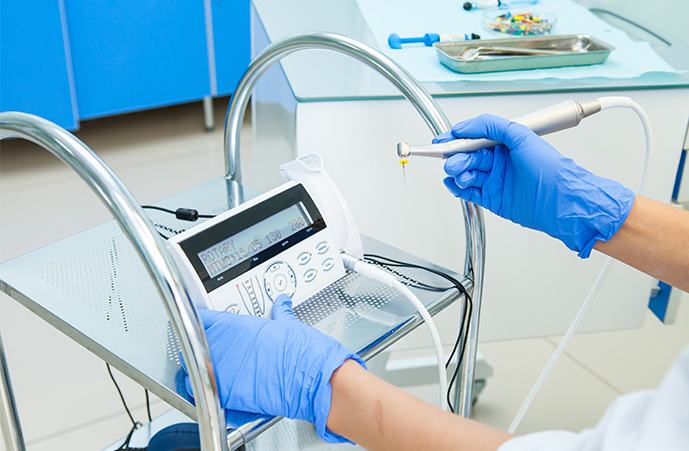 Infection or inflammation of the pulp
Beneath your tooth's hard enamel outer layer and beneath its underlying layer of dentine, your tooth contains soft tissue which extends from just below the crown of your tooth to the tips of its roots. This soft tissue is the pulp, which contains the tooth's nerves, blood vessels and connective tissue. All this soft tissue is vital for the tooth's growth, development and health.
If the pulp becomes infected or inflamed, or even harbours an abscess, root canal therapy or tooth extraction will be required in order to save the tooth.
Wonderfully, if root canal therapy successfully deals with a fully mature tooth's pulp infection or inflammation, that tooth can continue to function properly without any pulp!
Causes
Pulp infection or inflammation is caused by:
Breakdown of a filling/crown
A deep cavity
Trauma
Gum disease
A crack or a chip in the tooth
Severe wear and tear
Extensive dental work to the tooth.
Symptoms
If you have infected pulp, you might experience pain, sensitivity to heat/cold, tooth discoloration, and swelling or soreness in the gums around the offending tooth.
If the pulp is not treated quickly enough, you might experience severe pain. Abscesses can form at the ends of the roots too.
If abscesses are not treated quickly enough, infection can damage the bone surrounding the abscessed root. If the tooth does not have root canal therapy, it will have to be removed.
Therapy timing
Once the problem has been identified, root canal therapy should begin as soon as possible so there is more chance of saving the tooth.
Different teeth have different numbers of root canals.
Front teeth [incisors] have one or two canals each
Premolars [bicuspids] usually have one or two canals each
Molars typically have three or four canals each.
Root canal therapy
Before your root canal therapy, you will need to tell us your complete dental and medical history. This will include any medicines you are or have been taking and your reactions to any of them; any major illnesses you have had, and any heart problems and surgery you've had.
For your root canal therapy, we will:
Examine the tooth and take X-rays to examine the shape and lengths of its root canals
Give you a local anaesthetic to stop any pain
Place a sheet of latex [a 'rubber dam'] around the tooth to keep it clean and dry during the therapy
Use a small dental drill to make a small opening through the tooth to reach the pulp
Remove the infected pulp from the tooth using purpose-built instruments called 'files'
Clean, enlarge and shape each root canal
Possibly place anti-inflammatory and antibacterial medicines into the canals to counter the inflammation and infection
Prescribe oral antibiotics for the infection, if there are severe abscesses at the root tips
Perhaps take several X-rays to check on the success of the therapy.
If you need several visits for us to complete all of this, a temporary filling will be inserted to protect the tooth's interior between visits.
You might not experience any pain or discomfort, as some patients don't, but if you do, it usually only lasts for a day or so and you might want to take some aspirin or ibuprofen or paracetamol for it.
After the pulp has been removed, your tooth will not die, as it will be nourished by the tissues surrounding it.
To complete the therapy, we will:
Fill the root canals and seal the pulp chamber, in order to protect the tooth's inside against more infection
Insert a post inside the tooth so it is structurally strong enough to support a new artificial crown – if a new crown is necessary
Check that the jawbone around the tooth is healing properly in follow-up visits by examining your tooth and gums and by taking an X-ray.
You will be able to assist your jaw's healing process by practising sound oral hygiene – by brushing and flossing daily and having regular check-ups.