Are you suffering from bleeding gums, loose teeth or bad breath? You may have preventable gum disease or periodontal disease
Periodontal disease is the inflammation and infection of the gums. It is caused by plaque, a thick and sticky film of bacteria that builds up on the teeth.
Plaque can harden to become calculus, known also as tartar. Plaque and calculus are caused by poor oral hygiene; that is, the teeth have not been cleaned thoroughly or often enough.
Early stages of gum disease: Bacteria in plaque and calculus can damage the gums. Gingivitis can usually be treated successfully by removal of the plaque and calculus, followed by thorough but gentle cleaning (that is, flossing then brushing every day).
Advanced stages of gum disease: The advanced stage of gum disease is called periodontitis. It can cause serious damage to teeth and the gums, and bone that supports the teeth. As gum inflammation and infection get worse, pockets form between gum and teeth, and gum may recede from the teeth. As a result, teeth can become loose, fall out or require extraction by a dentist.
Periodontitis can result in the loss of many teeth in some people
Benefits of treatment: The purpose of periodontal treatment is to stop or slow down the progression of gum disease.
Benefits include having:
A mouth that feels, looks and is healthier.
Teeth that feel smooth and look clean.
A better chance of keeping your teeth for life.
Signs of Periodontal Disease:
Red, swollen, tender, painful or bleeding gums.
Gums that have shrunk from the teeth.
Persistent bad breath.
A bad taste in the mouth.
Abscesses between teeth and gums.
The fit of a denture has changed.
Loose teeth, drifting apart of teeth, and gaps appearing between the teeth.
Diagnosis of periodontal disease:
At Rawson Dental Epping we will check your oral health by examining your teeth and gums, and noting whether plaque and calculus are present. Tooth fillings are examined to check whether they are well-shaped and smooth, and are not loose or contributing to gum disease.
We check for any change in the size, shape, appearance and texture of the gums which may indicate disease. A periodontal probe may be used to identify areas where gums bleed easily or have recessed, or where pockets have developed.
At our Epping Dental practice, we check each tooth for movement, as gum disease can cause teeth to shift position or come loose. An x-ray examination may be needed to check whether the bony socket around each tooth is healthy.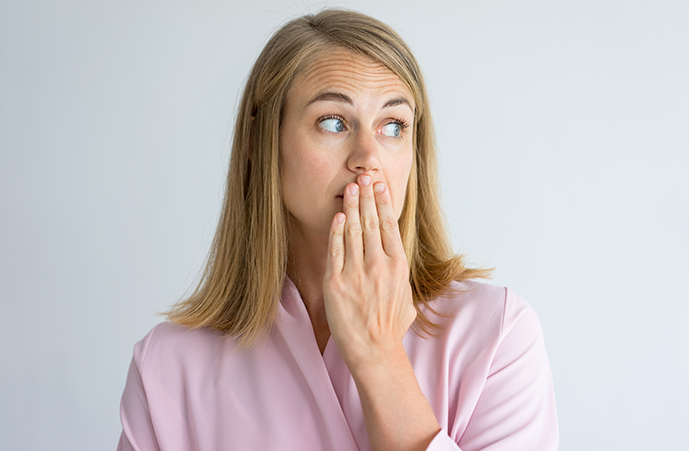 Bad breath
Bad breath [halitosis or oral malodour] refers to the unpleasant smell that exhaled breath sometimes has. After tooth decay and gum disease, bad breath is the most common reason people seek dental care.
Causes
The common causes of bad breath include:
Poor oral hygiene
Dental problems such as gum disease, impacted wisdom teeth [third molars], cavities, faulty restorations, abscess, old fillings, loose and dirty dentures
Dry mouth [xerostomia]
Some medications such as tranquilisers, anti-anginal drugs, chemotherapy medications
Crash dieting
Some medical conditions such as diabetes, upper & lower respiratory tract infections, tonsil stones [tonsilloliths] gastroesophageal reflux disease [GERD], and liver & kidney disorders
Smoking
Excessive intake of strongly flavoured foods and drinks such as onions, garlic, coffee and alcoholic beverages.
Prevention
If you suffer from bad breath, it can be prevented if you follow some simple steps:
Take care of your teeth

Brush your teeth twice daily with a good fluoride toothpaste.
Use the correct toothbrushing technique: put your toothbrush on the gum margin at an angle of 45°, move it back & forth and also sweep it back and forth across the biting surfaces of your teeth.
Use a toothbrush with soft bristles.
Replace your toothbrush frequently.
Brush all teeth surfaces thoroughly for at least two minutes.
Use dental floss to clean the areas between your teeth that your toothbrush can not reach.
Do not brush immediately after an acidic fruit or drink.

Clean your tongue

Gently clean your tongue with a toothbrush or tongue scraper, as the bacteria that cause bad breath tend to inhabit the back of your tongue.

Adopt healthy eating habits

Eat a nutritious balanced diet.
Limit spices, strongly flavoured foods, acid and sugar-rich foods & drinks.
Reduce your alcohol and caffeine intake.
Avoid sticky sugary snacks between meals.
Drink plenty of water.
If you smoke, it is worth quitting because in addition to causing so many health issues, it:
leads to bad breath
makes you prone to teeth stains and gum disease.

Have regular dental check-ups

Visit your dentist at least once every six months so your dentist can diagnose and manage the dental problems that lead to bad breath.
Treatment of bad breath
If you have bad breath, its treatment depends on its underlying cause – removing that cause usually deals with the problem.
Dr Le and associates at Rawson Dental are committed to solving all your dental problems, including bad breath.
We will be glad to help you out and answer all your queries about bad breath and other dental issues.
Just give us a call and we will take it from there!