If you have suffered from traumatic tooth damage or extensive tooth decay, we offer ceramic porcelain crowns and fillings in a single visit! At Rawson Dental Epping we use modern CEREC Omni CAD/CAM 3D scanning technology to generate and make our crowns in our in-house lab. The new dental porcelains wonderfully allow us to save more tooth structure – and allow us to offer you the benefits of Cosmetic Dentistry to a higher level. New crowns and veneers that replace your missing or broken teeth can improve your appearance and your speech.
You look in the mirror and see that gap or that dark tooth. Does it bother you, or are you content with how it looks?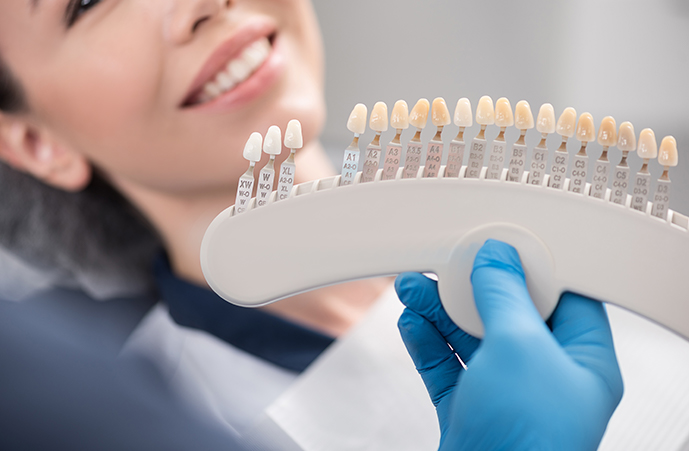 Well if it concerns you then ask about our solutions of either a crown or a bridge to rectify the situation. Let's start with the dark or heavily filled or jagged/cracked tooth. It has been well documented that teeth that are heavily filled, let's say over 50% of the tooth structure are commonly susceptible to cracks. You might say, "I haven't had any problems or pain with the tooth". This is true in most instances; most of us are completely unaware if the stress fractures in teeth. Picture a small crack in the windscreen, "I don't need to replace that yet, its only small, I can still see fine", hit one too many potholes or a pebble flicks up off the crack and then suddenly the windscreen shatters. The same may happen to your tooth. A crown is a great way to protect your tooth from further or future damage. It acts like a helmet protecting the tooth from all directions.
Crowns nowadays are typically made of porcelain/ceramic or precious metals like gold. They have a superior longevity compared with plastic resin fillings and biologically stable vs. "the dreaded mercury amalgam fillings."
At Rawson Dental, we tend to do porcelain crowns in a single visit, with our worldwide renowned CEREC system. Imagine not having to take that extra time off work whilst the crown is being made and coming back in for the fitting. No more dealing with pesky temporaries which can fall off at any given moment. No need for a second lot of needles. Why? With CEREC we can design your crown, mill it and then furnace it, in usually under 2 hours. You can even watch the whole process at your leisure. Patients have commented on how so much more relaxing doing it this way as the get a break from constantly having to hold their mouth open for a prolonged period.
Once happy with the final crown we can cement it in, and you are leaving before the anaesthetic even wears off.
Bridges
Bridges are great for that gap or space between your teeth through an extraction, trauma or simply the tooth never came through. Bridges are crowns that are joined together. The teeth on either side of the space are prepared to accept a crown shape. The crowns are already fused prior to insertion and much like crowns are cemented in place.
Another common scenario includes a missing front tooth. Typically a Maryland bridge is placed in this situation where a crown is made to replace the missing tooth and it is fused to a wing which is glued on to back of the neighbouring tooth. This is a popular method of treatment as it is minimally invasive. Meaning not much tooth preparation is required if any.