Our teeth significantly impact the way we live our life. Our teeth affect how we look, how we speak, how we eat, and missing teeth greatly affects how we see ourselves and how others see us.
Missing some or all of our teeth compromises our quality of life and sense of confidence. One option of replacing oust or missing teeth is to have dentures.
Denture (or false teeth) is a prosthetic device that is one alternative to replacing missing or lost teeth and are the supporting gums and bone.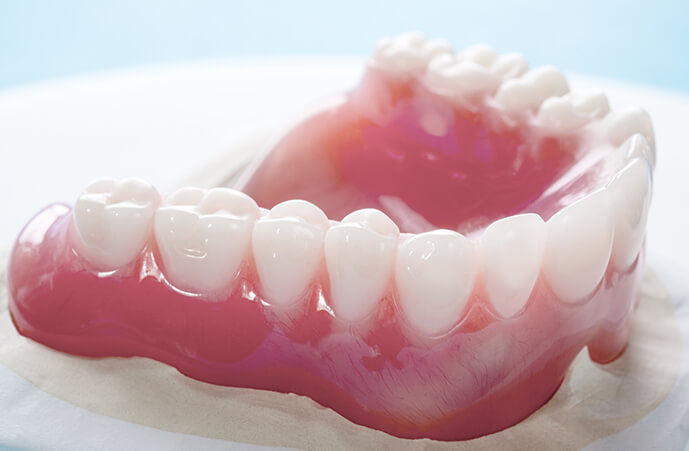 There are 2 main types of dentures:
conventional removable dentures that can be partial or complete.

A full denture: replaces all the natural teeth and gums and rests on your upper or lower jaws, or both.
A full set of dentures providing support to your face and giving it a natural, more "filled-in" look. With fuller looking lips and cheeks, this results in a younger, healthier appearance.
A partial denture: replaces some lost or missing teeth this is held in place by clasps around your existing teeth or dental implants. These dentures have an acrylic only base or they can have a cobalt-chrome base for added strength.
By replacing your missing teeth this will make eating easier and provide you with a more confident smile.

Implant retained dentures rely on clasping to dental implants.

It is a popular alternative to conventional dentures. An implant retained denture replaces one or more teeth and is held in place by dental implants secured to the jaw.
Implant retained dentures are more stable and secure and give you increased confidence. They provide better ability to eat and enjoy foods like steak, raw vegetables and fruits
What is involved in an implant retained denture?
Once you have made an informed decision on the treatment plan.
Step 1
An examination and a 3D bone scan is taken to determine suitability and the best type of implant system for you.
Step 2
Place implants.
Step 3
Once the implant have integrated into your jawbone, attachments are screwed to the implant and to your dentures.
Then you can confidently enjoy life!
Complete Denture
Convincingly natural full denture solutions.
Partial Dentures
So subtle, people won't notice.
Immediate Dentures
The best way to feel good after an extraction.
Repairs & Relines
We'll breathe new life into your old denture.
Keeping your mouth healthy
Even when your dentures are comfortably in place, it's still important to see us regularly so they can ensure they are fitting you correctly and remain beneficial to your oral health. A biannual check-up, which involves oral cancer screening and monitoring of cheek, tongue, gums, palate and any remaining teeth is usually recommended.