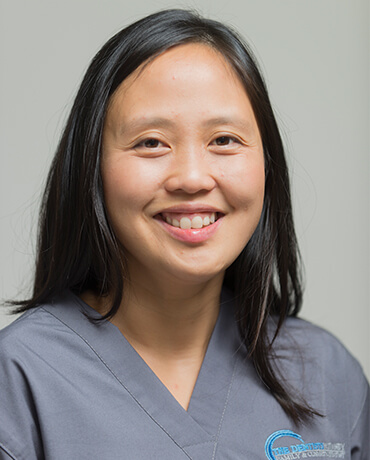 Dr. Tracy Le
Principal Dentist
Dr Tracy Le was raised in Sydney suburbia and studied at MLC Burwood before graduating from the University of Sydney.
Dr Tracy also worked in the "sunny south" of the United Kingdom in Bournemouth where she gained invaluable experience professionally and through traveling.
To provide a superior dental experience with an impeccable level of care for all my patients. My focus is on your dental and your overall health while developing a long-term relationship with you.
Dr Tracy Le is a member of the Australian Dental Association and regularly attends professional development courses. Tracy feels these courses are vital to ensure you receive optimal, up-to-date dental care from her.
Dr Tracy Le has been referred to as "the gentle dentist." She endeavours to keep her patients feeling relaxed. She is particularly good if you are feeling anxious or dental-phobic.
Tracy enjoys all aspects of dentistry but has a particular interest in being:
A cosmetic dentist
A family dentist
Dr Tracy Le is married with three beautiful children and enjoys travelling, theatre and spending time with her family.